The locking solution for bike storage units
Presenting the ideal locking solution for bike storage units
With the recent boom in bicycle purchases in the UK, a lot of new bike storage solutions have emerged. These range from simple metal bike racks and open shelters to full blown higher security cage-style options.
Choosing the right locking solution for bike storage units sends a crucial message to the future users: we prioritize protecting your bikes.
But locking a bike storage unit comes with its own challenges, and the solutions required can differ from your classic door or gate locking options.
So, what considerations should you make before you decide on the type of lock to use?
Considerations when choosing a locking solution for bike storage units
There is more to locks that just slapping whatever does the job on the door. Take time to consider the needs of your customer and tailor the locking solution to this. If you need some help to start these, here are a few considerations to make before committing to a bike storage lock.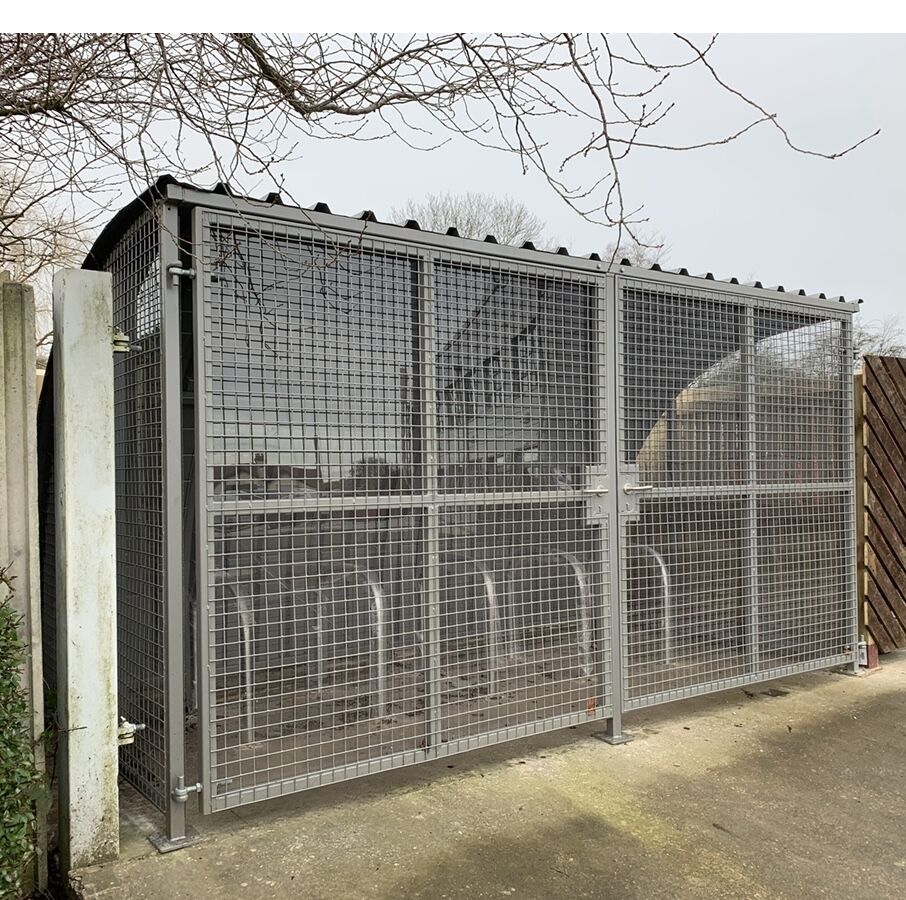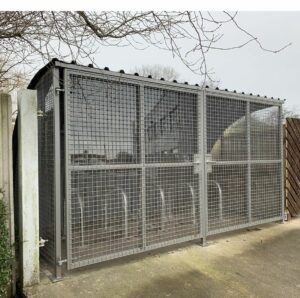 The entry
Imagine you arrive at work after cycling, with your work bag, lunch and perhaps gym bag on tow. The last thing you want to be met with is a padlock you need to open with a key and keep a hold of while locking up your bike.
You want a simple, easy way to enter the shelter with your bike on tow.
This can be in the shape of a small key fob they can have on a keychain. Combined with an electric release keep, this is the easiest way to enter it with busy hands.
Another option is to use a keyless combination lock. The benefit it that you don't have to fish out keys to gain access, just remember the right code. It is also easy to change the code in case of security breaches.
The lock you choose can make this first step as easy and user-friendly as possible.
The exit
For a walk-in shelter, once you're in, you are going to want just as easy an exit of course. Hauling your bike out again, presents the same challenges as entering. Prioritize a one-hand exit that can easily be done while controlling a bike with the other hand.
A good way to do this is by having an internal thumb turn that opens the door with a simple turn.
Other solutions are push pad or bars. A simple push and the gate or door can be opened easily from within. For this, it is most convenient if the gate or door is outward opening to better facilitate the push pad opening from within.
Be aware that for thumb turns and push pads, you might have to find a way to shield them from the outside. Depending on the gate style you have and the distance between the bars, outsiders could reach through and open it. To help prevent this you can insert more bars or use a security shroud.
The visibility
The visibility within a walk-in bike storage unit matters more than you might think. This is more a consideration for the overall construction of the bike storage unit rather than the locking device, but it is important to consider as it can affect the lock you have to choose. In the middle of winter, it will be dark when you travel to and from work. Ensuring the bike storage unit is properly lit is a good way to ensure user safety.
A problem with too little light is finding your way out again. Imagine being in the storage unit, no lights and having to find the opening in the shed. Most gate locks are finished in a dark colour, which can make it difficult to find the lock again in the dark.
The location
Where the bike storage shelter or unit is placed is important when it comes to choosing the right locking solution. Most bike units are located outdoors and will therefore be exposed to all kinds of weather. For external bike storage units, it is important to choose a lock that is corrosion and weather resistant. Most gate locks will be suitable for this, but if you want added durability you can go for a stainless locking solution.
If you have a bike unit in the basement, you could go for a classic door lock. But bear in mind that basements get damp and can be prone to flooding, so a corrosion resistant lock is still a good idea even though it is indoors.
Another consideration when it comes to location, is if it is easy to supply power to the unit, for example if you were wanting to use an electronic locking system. If it is too far from the building, it might not be as easy to just wire it up. If the bike storage unit is being constructed after the building is finished, it might be too costly to ensure they have access to power. If that is the case, you can still get a suitable lock though. A mechanical gate lock could be the answer. Read on as we show you different locking solutions for bike storage units.
Locking solutions for bike storage units
ERHDM + the new Superlock Keylatch
Taking the above considerations into account, we are happy to present a solution for securing your bike storage units, incorporating our new Superlock Keylatch.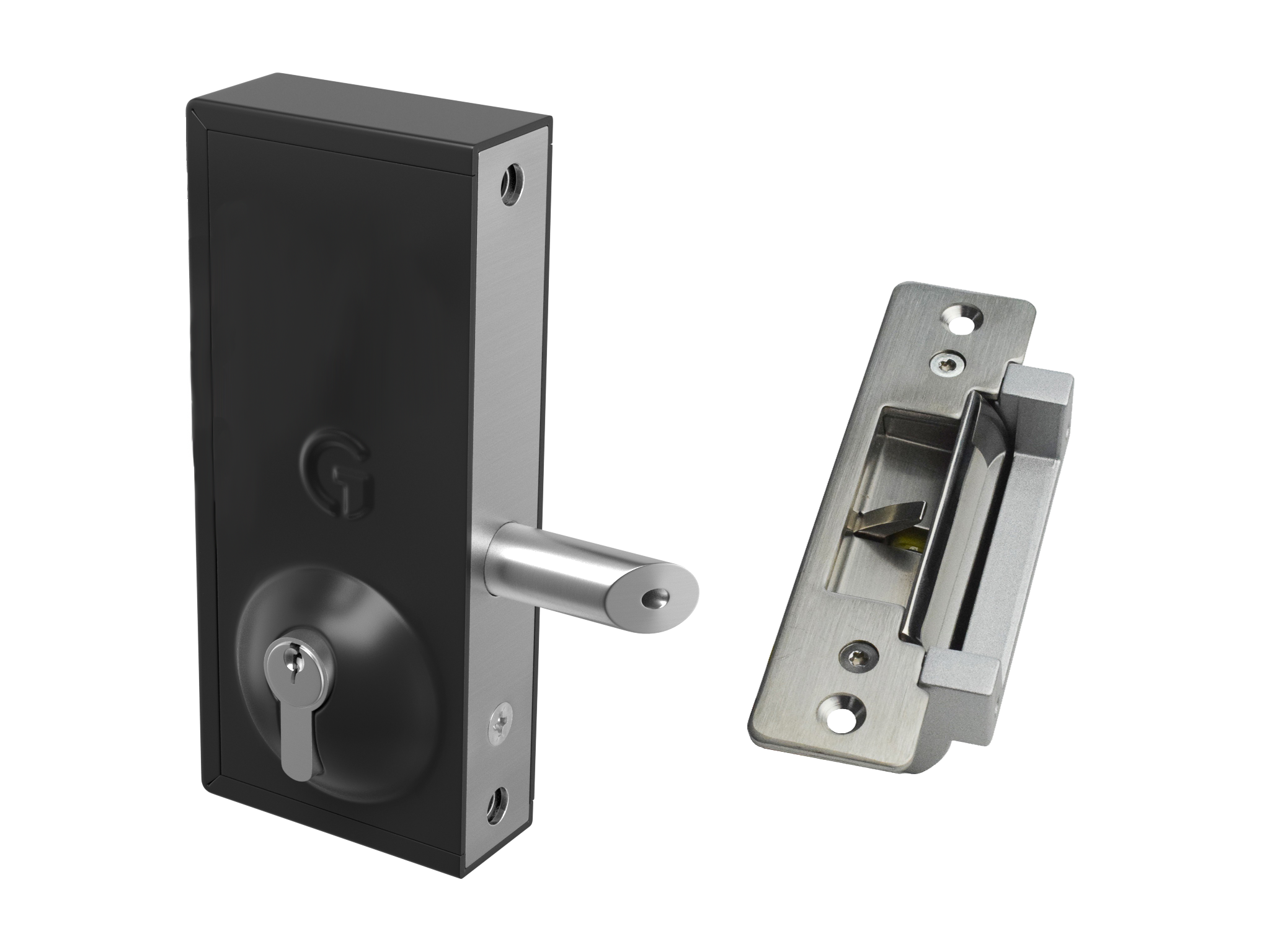 We have developed a special Superlock latch-only lock to work in conjunction with our electric release morticed keep. This combination can be used in conjunction with an electronic access control system, enabling it to be opened with a fob reader or entry method of your choice, as well as the secondary option to use the key. For the exit, you can similarly fit an electronic push button, or you can fit a thumb-turn cylinder to the lock which is an easy and cost-effective way to allow quick exit.
As with anything, there are both advantages and disadvantages to using this locking solution for bike storage units, so it depends on what your priorities are.
Advantages:

Easy access with an electronic entry method of your choice

Option for internal thumb-turn for one-hand exit

Set the keep to fail safe or fail secure in the case of power cut

Keep will help protect the latch and the gate frame

Disadvantages:

Need power and wiring meaning limited locations possible

May need separate key fob to open hence distribution and potential replacements of these are required
Keyless entry and quick exit
If adding power to your bike shelter unit isn't an option, you can consider using a mechanical keyless combination lock with internal push pad such as our Superlock BQDG or Select Pro SBQEDGL.
Advantages:

No need for power
Security in the shape of a digit code
Easy exit with push pad
Quick to install and can be done with anyone with a drill
Easy to give new residents access as no fobs need coding or purchasing
Disadvantages:

Less user-friendly entry with keypad and code access
The code can be observed by outsiders
Watch our recent walk-through of the BQDG on a bike storage unit:
Finding the ideal locking solution for bike storage units
In summary, the lock you decide to choose for your bike storage unit depends on the priorities and requirements of your customers, the location, and the general usage of the unit.
Avoid the classic padlock and hasp and give your customers a locking solution specifically tailored to their needs and wants from the beginning.
If you would like more information on our locking solutions for bike storage units, please contact sales:
sales@gatemasterlocks.com or +44 (0) 1243 558 580 to get a quote today.
Read more: