Key characteristics people look for in a great fencing contractor or steel fabricator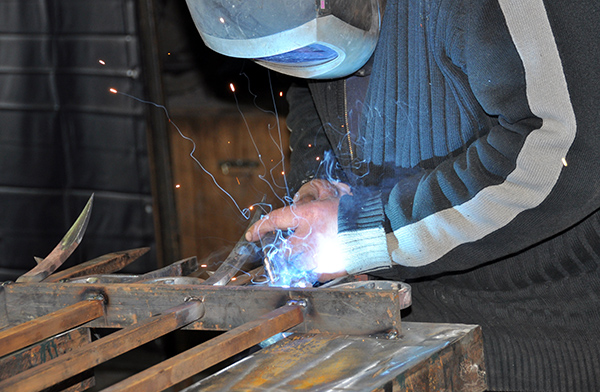 If you're a growing company, you're undoubtedly constantly looking for new business. And the business is out there for fencing contractors and steel fabricators – but it rarely comes on a plate, so what do you need to do to put yourself over your competition?
One of the key factors of winning new business is the impression you give your potential client and this goes for fencing contractors and steel fabricators too. If customers see you as a half-baked amateur with low work quality they'll go and find someone else to do their work. Simple as that. Your success is ultimately governed by your ability to offer and handle your project in a way that leaves your customer satisfied through every stage of the process.
So what is the secret to winning those clients? These 6 ideas might help you to focus on becoming the best in your field.
Easily accessible information about your company
In this day and age, few people survive without a professional and easily-navigable website. Your website is ultimately going to be a large source of your traffic – and it's important that the customer can find out straight away what they need to know about your company. Your website should be clear with an easily accessible 'contact us' form and a prominent phone number. Social Media is also an ever-growing source of traffic and it's important that you have a presence on these platforms.
Your experience
It's probably your experience that in construction related projects a large percentage of people are led by referrals. You can't always influence word of mouth referrals, but you can collect testimonials – and this is one of the most powerful ways of converting. These testimonials should be prominent on your website, with a real client name – and even a photo and contact details of the client if possible. People won't take any notice of a testimonial unless they're convinced it's genuine. And while we're on the subject, it's essential that you show off your work especially for fencing contractors and steel fabricators. If you don't already have a project gallery on your website of previous work, this should be your next action point. If people can physically see your work they're going to have far more confidence that you are reliable and a 'real' company.
A quality product and service
This is key to customer satisfaction and customer retention. No-one wants a fence that blows down or steel gates that fall off. Not everyone can be the highest quality in the market – but your client wants to know that you're offering them something that is going to last. Whether you're making your products or buying them from elsewhere, quality is something that everyone appreciates and people will keep referring as long as you provide them with the quality they need. As Benjamin Franklin once said – "The bitterness of poor quality remains long after the sweetness of low price has been forgotten."
Price
The price of your products is obviously a large deciding factor and many jobs are lost and won through price. Pricing up a job is always a minefield and needs to be thought through carefully for fencing contractors and steel fabricators too. What some experts say though, is that you can't build a sustainable business by being the cheapest in the market. Customers will often say that they want the cheapest price – but more than often there is some other underlying factor which will sway them when coming to their decision. Without reasonable profit margins you won't grow your business to the level you want – so remember that customers will often pay more for someone who offers them a great service.
Time-bound
How long do you take to complete a job? If you're manufacturing an ornamental set of steel gates and give the customer a 6 month lead time they're going to think twice. Same with fencing contractors. Find out what time limit the customer is putting on the job and make sure you can deliver it. Not everyone needs things done in a rush but it's essential that you find out when they want to start and finish the job. If they want a project started in 2 months time and you tell them you can do it in 4 months time, they'll go on to the next person. It's not always realistic, but fit their schedule around yours where possible – even if it is a pain in the neck!
Helpful customer service
The customer wants to know that you'll respond quickly to questions or queries – there's nothing more frustrating than not knowing what's going on and not being able to contact your contractor. Make sure there's always someone to answer phones or give them your personal mobile number. And responding quickly to new enquiries is also key – it's more than likely that the client has asked other companies other than yourself, so make sure that you get the quote to them as fast as possible. If you're slack in responding to enquiries it may well put them off using your company entirely!
Your business is a large part of your life and everyone wants to be successful. Make sure you look at your company to see that you're offering your customer the best service with the resources you have – or enhance your systems and staff to attract and retain your clients – the life-blood of your business!