Gate lock guide: Why you should choose a bolt-on gate lock
If you look closely at the gates in your street, you will find bolt-on gate locks a common sight on metal gates.
Bolt-on gate locks are fixed to the frame of the gate with bolts or screws as shown below. They are usually installed symmetrically on the gate frame and are visible from both the inside and outside.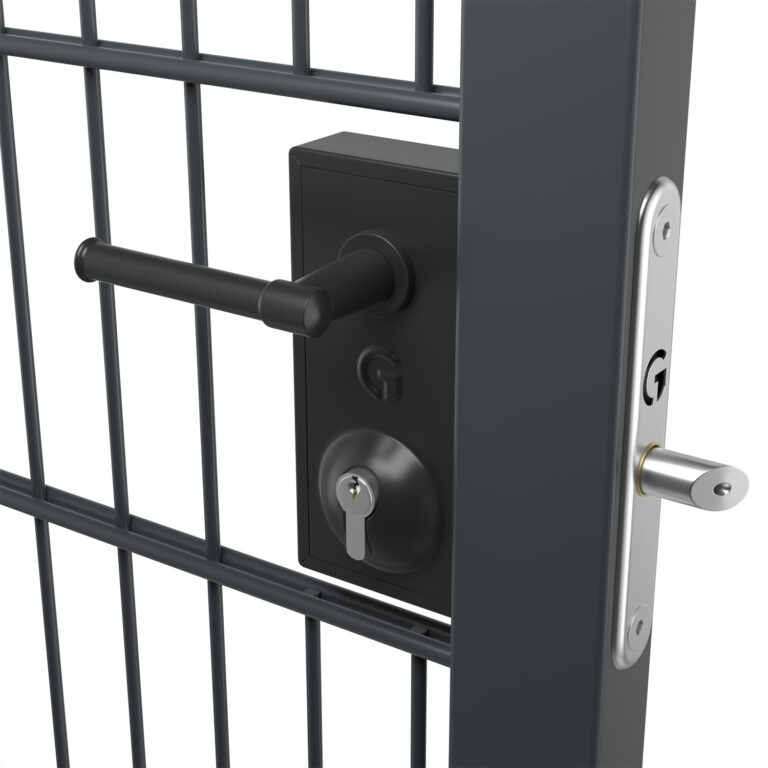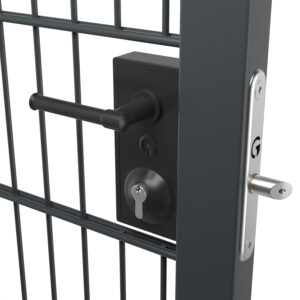 Bolt-on locks don't require any cutting or welding of the gate making them a convenient lock choice for many installers.
What are the main benefits of a bolt-on gate lock?
Less work:
As you do not need to cut or weld your gate frame, you only need to drill a few holes, which is much easier and quicker to do. Installing such a lock is literally tightening up the screws. Imagine, how much time you will save if you do not need to clean and brush your welds!
We have actually timed how long it took one of our colleagues to install such a lock, you can see our video here:
The symmetry:
Bolt-on gate locks are installed symmetrically, which not only looks great, but allows you to have the same gate wing for both left-opening or right-opening situations. Which, again, saves time and helps you to avoid costly mistakes.

Easy installation:
As we discussed above, a bolt-on gate lock is very easy to install. This means that anyone can do it. You don't need to have a skilled welder or cut a precise slot in the gate frame. In fact, these bolt-on gate locks are notoriously popular amongst the DIY-enthusiasts as well as fabricators.
Economies of scale:
When working with bolt-on locks, there are usually different models available that fit in the same way. Thanks to this you can prepare all your gate frames beforehand in the same way. This means you can have a standard production process and gain from economies of scale.
You can then stock these gates without risking any mismatch. Your customer can still get a ton of personalisation in the last stage of the selection, since any of your locks would fit in that gate regardless.
Early preparation:
A quick delivery process can be a huge advantage in the fencing market where seasonality plays a big role, and the summers can get really busy fast.

Therefore, having a quick process can help you better manage your work, handle more projects and get more done!

With a bolt-on gate lock, you can have the holes pre-drilled in the factory even before choosing the colour, and the installation of any bolt-on lock will be done quickly and precisely on site.

Where are bolt-on locks most commonly used?
Forged gates. You can see a lot of bolt-on locks used on forged gates that have flat bars like the below example.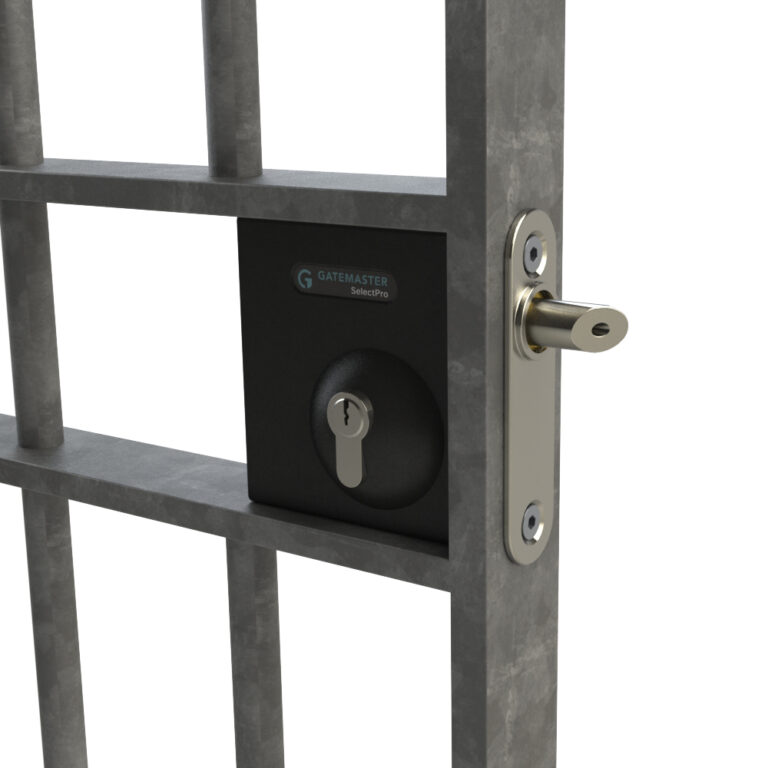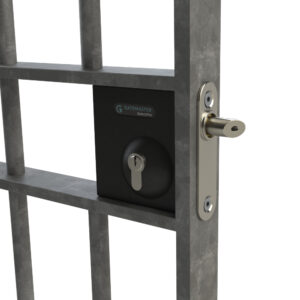 The open design of the gate invites for a visible lock box. In addition, other locks might not be suitable for this style of metal gates. For example, the flat bars are not suitable for mortice locks due to the limited thickness of the bars. A weld-in lock box requires quite a bit of extra work in such a gate and doesn't have any obvious advantages, so bolt-on gate locks remain a great solution for this type of metal gate.
Open-space fencing. Gates with mesh panels, metal bars or palisade fencing are often seen in the cities, around sports grounds or industry terrains. Such fencing does not obstruct the view too much and allows for visibly 'open space' – hence the name – while still requiring a quality working gate.

As these gates typically have simple, minimalistic design, bolt-on locks fit right in with their easy, standardised installation and symmetrical look.
Large perimeter projects. Building on the previous point, open-space fencing is often used around stadiums, city parks, local building developments, inside or outside logistic centres and large machine parks.
An important characteristic of such projects is that they need to be uniform and very cost-effective. Function takes precedence over appearance.
As discussed above, a bolt-on gate lock works great with economies of scale, both during production and installation, so this is a great option in such a situation.
How does a bolt-on gate lock compare to other lock types?
Mortice locks:
Compared to mortice locks, bolt-on gate locks are much easier to install, since the mortice lock require very precise cut-outs on 3 sides of the frame tube. It is therefore rather difficult to retrofit a mortice lock onto an existing gate. The bolt-on lock, on the other hand, can be installed by almost anyone on a new or existing gate.
However, mortice locks offer an aesthetic look, where the infill on both the gate and the rest of the fence look uniform, without the lock or anything else breaking the lines.
This can be especially important on gates that are filled up with composite or timber; as some bolt-on locks have rounded shape, it can be difficult to make a precise cut-out in the infill.
Weld-in locks:
A bolt-on gate lock will have a fixed width and size, which can be harder to install on some design-forward realisations, or which can look out of place in some cases.
Weld-in locks usually come with welding boxes in different thickness, which allows you to have very clean, uniform lines.
Some manufacturers favour the weld-in locks above mortice locks too, since they would only need to cut out one square piece of the gate frame, and not the precise cut-outs on 3 sides required for mortice locks.
Asymmetrical surface-fixed locks:
There is a variety of locks in the market that are fixed on the gate on one side (usually, on the inside), so they are not visible at all from the street. This is typically done on solid gates that do not allow the installation of the bolt-on lock.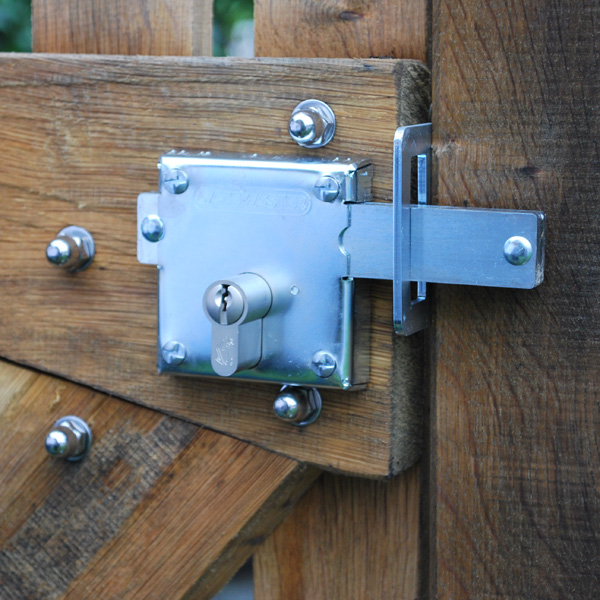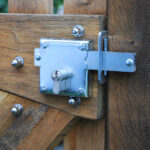 The advantage of such a solution is that you have no gap between your gate and your post, comparable to your inside door, where it is impossible to peak in from the outside.
This is, however, also the biggest disadvantage: gates are constantly exposed to the outside elements and need some space to crip and expand to be able to function properly. There are not a lot of solutions in the market that are designed with this in mind, so this can result in a badly functioning gate.
Why choose a bolt-on lock?
The above is a few of the reasons why our customers love the bolt-on locks and our own Superlock range remains one of our bestsellers. But if your gate hardware heart leans towards weld-in or mortice locks, there are plenty of reasons why these types are favoured. You can find out why in our other gate lock guides on weld-in locks and mortice locks.