Secured by Design gate locks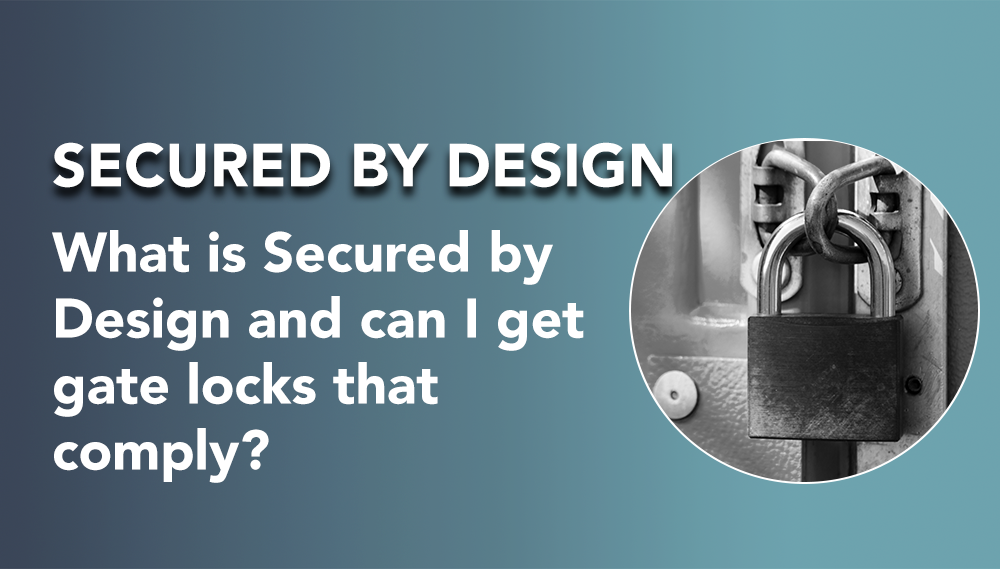 What does 'Secured by Design gate lock' mean?
Secured By Design (SBD) is the official police security initiative started by the UK Police service. It was started in 1989 after a housing crisis started a development boom of low quality and low security houses. The rise in burglaries was alarming and the Secured By Design programme was started to help house developers and owners find secure options for doors, windows, and entrances. The programme aims to reduce crime by offering clear standards for more secure options.
Initially working towards raising the standards for new house builds and developments, the Secured By Design standards are now involved from the beginning and advise on products and layouts to increase security. This is done by incorporating crime prevention techniques in the surrounding areas and recommending thoroughly tested products.
This includes gate systems, some of which have an Secured By Design recommendation. For gate locks, Secured By Design means the lock and gate system is tested to the Secured By Design standards.
Can I get Secured by Design gate locks?
This brings us to the question of the hour: Are the Gatemaster locks tested to Secured By Design standards?
Unfortunately, it is a question that is easy to answer, because no they aren't.
As it stands, Secured By Design doesn't certify stand-alone gate locks such as our bolt-on, weld-in or surface fixed locks. They have to be part of a complete gate system that is being tested to the SBD standards. It is therefore very difficult to get a Secured by Design gate lock and it would only be valid if it was installed on the specific gate system it was tested to.
In general, retrofittable gate hardware doesn't conform to Secured By Design as these standards either applies to a complete system (the integrity of the complete system is tested) or padlocks (the integrity of the mechanism has been tested).
What you shouldn't do
There will be many benefits to getting a Secured by Design gate lock and gate system and most likely you will be searching the market for one that conforms. These can come at a high price point, and if you don't have the budget what are your options?
It might be tempting to use an internal door lock that conforms to Secured By Design and install on your external gate. Although this will technically work, you are left with a lot of unknowns about the anti-corrosion properties of the lock. You also have to remember that the locks have been tested as part of a complete door set and therefore the lock itself doesn't technically comply.
When exposed to the outdoors, will it be suitable for the elements or rush within a few weeks? Although SBD compliant to begin with, a rusty lock will quickly be a security risk.
Some questions to consider before going with an internal Secured By Design door lock on a gate system:
Are the insides stainless steel?
What happens if installed on a timber gate and the softwood swells?
What happens when it is consistently wet?
It is possible to get SBD locks as part of a gate or door set-up that are more suited for outdoor use, but this is not our area of expertise.
However, without giving away too much, we are currently looking into the process of our gate locks becoming SBD compliant and testing them with gate systems from known suppliers in the industry.
Although not SBD tested yet, we do however manufacture locks that are highly suitable for external use, like the Superlock or Select Pro gate lock ranges. If you want a gate lock that can handle the elements, get in touch and our team can guide you.
You might also be interested in…