Access Gates – Bespoke Solutions For The Offshore Industry
Five years ago a world leading design, engineering and project management consultancy firm were detailed with the FEED (Front End Engineering Design) of one of the UK's largest offshore wind farm projects.
One particular aspect of the design was brought to attention of Gatemaster, for the safety gates on the internal and external access platforms of the turbines. A bespoke solution was needed to ensure that the gates remained closed at all times, for the safety of engineers who visit the turbines to carry out maintenance tasks.
Construction of components for offshore uses poses several challenges. The highly corrosive environment is a test particular to offshore engineering which design companies are faced with. With highly corrosive elements that are present such as carbon dioxide, hydrogen sulphide and other hazardous chemicals created by a combination of extreme pressure and temperatures, it is one of the harshest environments that equipment can be subjected to.
Using the incorrect materials and finishing processes can lead to failure of a section of the construction and lead to potentially significant costs both in harm to the environment and human safety, and also financially.
316 stainless steel is a material that is often used for marine and offshore industries, which contains a significant amount of the chemical element molybdenum. The main function of this element in stainless steel is to increase the corrosive resistance of the metal. Whilst 316 stainless steel is often used because of these non-corrosive benefits, it is also one of the more difficult metals to machine and is more expensive than a lot of other materials, creating challenges when making components.
The design of a device to ensure the platform gates closed reliably had then a twofold issue – one, could a suitable closing mechanism be made from 316 stainless steel given its properties and high cost, and would the mechanism be durable enough to withstand the harsh conditions. These questions were discussed in depth with the offshore engineers. Once the boundaries of the design had been defined, prototypes were tested, and the first closers were fitted in situ.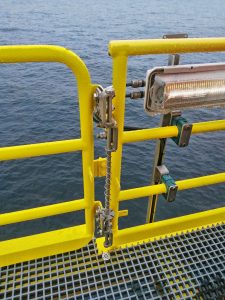 Having previously done pickling and passivation on stainless steel parts we made some of the test closers including this process, which is an acid chemical treatment to remove contaminants from the surface – these contaminants can cause corrosion in extreme environments. The testing proved successful and the closers were fitted to all of the platform safety gates on the turbines.
We have successfully completed projects for 2 large wind farms in the UK, both of which were bespoke for the application. These and similar products are well suited to wind turbines and any offshore platforms such as sub-stations and offshore oil and gas rigs. Gatemaster has been designing solutions for the gate industry for over 25 years, and we are recognised for our expertise and ability to work closely with the designers and come up with bespoke engineered solutions. We work with many companies worldwide and are always interested in any challenges clients face with bespoke gate hardware.
Get in touch here for more information!