Guest blog: Which fencing and gates should I choose for my school?
This month, we've invited one of our distributors to share their expert knowledge for our first ever guest blog. In the blog below, First Fence will be sharing their top tips and knowledge about school fencing and gates.
Why fencing and gates around schools is so important
When it comes to schools, perimeter fencing and gates have a huge role to play in providing safety and security.
Not only does a fence define the school boundary and create a visual distinction between public and private property, but it prevents unauthorised entry to the grounds, protects the pupils, staff and visitors, and deters theft and anti-social behaviour.
Choosing the right security fencing and gates for your school is important, read on to find out all your options!
What do I need to consider when choosing security fencing for my school?
What are your key boundary requirements?
You will need to consider how large the school area is, how many meters of fencing you need, as well as key access points within the fence line.
Do you require wide vehicle access points for buses or delivery vehicles, secure car parking for staff and multiple entrances for foot traffic? Also, consider if you need to go that extra mile and purchase gate hardware too, adding that extra security and theft deterrent, designating staff-only areas of the premises.
Possible risks?
Where do you think intruders might gain access? This is something you need to consider when looking at the different security fencing types. Have you secured the car parking and bike storage areas?
Quality and Maintenance
When you have a budget to stick to, it is crucial you make sure the fencing and gates are cost effective. However, finding the balance between the cost and the quality is of key importance.
Check that the products are manufactured from high quality materials and have some great customer imagery for you to see what the products look like in situ.
What does the fencing and gates look like?
As you're securing a school, you still want the area to look appealing. Whether this is fencing that has been powder coated alternative colours to keep the fun and perhaps portray a smarter finish, or you select a fencing type that has better visibility, there are lots of options available through First Fence, including the possibility of having a custom RAL colour to match your school colours.
What fencing type should I choose?
So, we've explained different areas for you to consider when selecting your perimeter fencing, but now you need to know what options are available to you… Find our recommendations below.
Mesh Fencing & Gates
Mesh fencing is a versatile security fencing, due to the choice of mesh types. Mesh fencing and gates are a strong, reliable security option that is made from high quality steel and then galvanised to prevent rust. An additional protective layer can be added with powder coating, which we can offer in a range of colours.
Most commonly used to set up a perimeter around school areas, game courts and sports stadiums, mesh fencing is a robust option that maintains a stylish and aesthetically pleasing design. Especially with the option to powder coat to your school colours.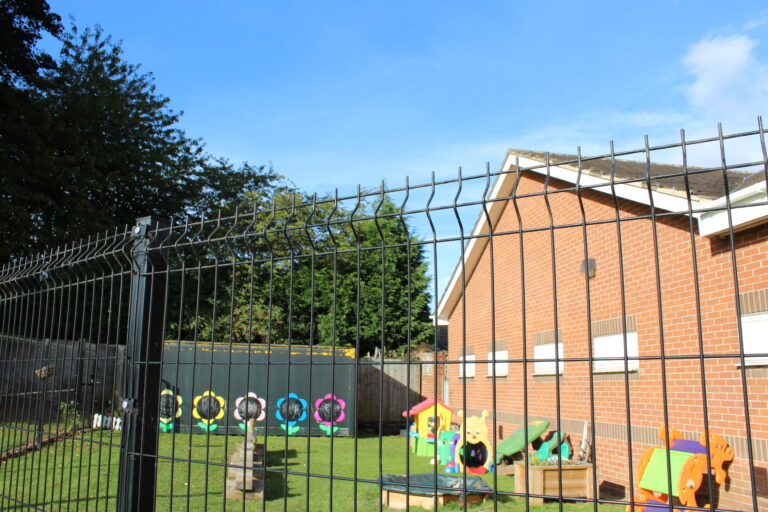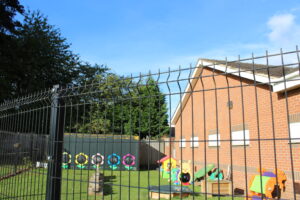 Safe Top Mesh Fencing – Featuring a 'rolled down' top that contains no sharp edges, it's a safer option when considering security fencing, making it an ideal solution for schools and play areas.
868 Rebound Mesh Fencing – Specifically designed to be used around multiple use game areas, as it can withstand the impact from a ball delivered at force and deflect it back into play.
V Mesh Fencing – Featuring a 'v' shape within its design, increasing stability of the panels, and making it difficult to climb, whilst being more child friendly.
Twin Mesh Fencing – Available in two varieties: 656 and 868. This refers to the diameters of the mesh wires within the fencing panels, making the fencing strong and excellent at combatting vandalism and theft.
Stripe Mesh – With a diverse selection of properties that can benefit a range of business needs, stripe mesh is suitable for a variety of environments, and with a climb deterrent design, as well as anti-tamper elements it helps increase the security line for your fencing.
Prison Mesh Fencing – The mesh wires are positioned close together to prevent people from fitting their fingers through the apertures, it is incredibly strong and cannot be cut.
Securifor 358 Mesh Fencing Kit (SR1 Rated) – A very secure yet discreet mesh system that is a good alternative to palisade fencing when you need a more aesthetically pleasing system. This product is SR1 (A1) rated, meaning that it can withstand a 1 minute attack time using tool kit A which includes prybars, pliers and levers.
With First Fence providing several types, widths and heights, that are in stock, it's never been easier to order!


Don't forget your gate(s)!
Including a mesh gate with your fencing system is crucial, as they provide an access point. As well as our twin and prison mesh gates that are available in a variety of heights and widths, we have our manual swing mesh gates and our automatic sliding gates too!
It is cost-effective, strong and long-lasting, which can be customised to fit almost any school area and match the aesthetic. An added bonus is that it is easy to install!
Go that extra mile in safety and add gate hardware to your school perimeter…
When it comes to school gates, there are multiple gate hardware options to add that extra safety and security element to your school. With products ranging from drop bolts to digital locks, with different entry types including quick release for fire exits, digital intercom and keypads which can be popular with schools for staff that need access.
Gatemaster recommends a latch deadlock like the Superlock BLD for the main school gates. The latch bolt allows you to operate the lock with just the handles when unlocked, making it useful when the gate is left unlocked during opening hours, but you can deadlock it at night for additional security.
There is also the option to add a robust and secure locking drop bolt which is suitable for mesh and palisade gates. Once the dropbolt is in the ground the locking plate is rotated around the edge of the gate, so that when the second gate is closed the dropbolt cannot be lifted.
Add your gate restrainer! It's simple but essential, and is a strong safety feature to help prevent gates falling if the hinge were to fail and cause harm to pedestrians or property (something that is essential within a school environment). Available in two sizes the gate restrainer can support up to 500kg and can be fitted to any single or double leaf gates and railings.
You can find both of these items in the First Fence Gate Safety Essentials Kit.
Palisade Fencing & Gates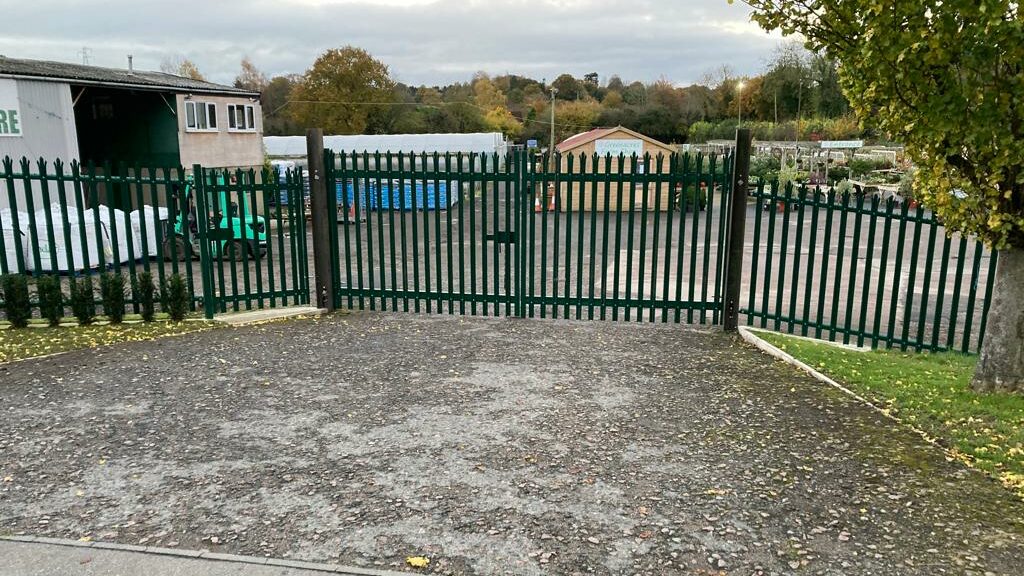 Palisade fencing remains an extremely popular security fencing option, whether used for commercial properties, industrial sites or schools.
As the more traditional option, palisade fencing can provide added security to your school. Palisade fencing pales are made using a 'cold rolling process' meaning that the steel becomes lighter in weight, while maintaining its strength. In addition, anti-tamper fixings are used to secure fencing parts together, making it difficult for the fencing to be tampered with.
Palisade fencing can look quite intimidating with a Triple-Pointed or Single Pointed Pale type, whereas, a Rounded Pale give them as softer appearance. Palisade fencing and gates are also able to be powder coated with one of our RAL colours.
There is also our Combi Security Palisade Fencing, an SR1 Rated option, that provides a stronger and more robust solution, ideal for sites where increased security is required. This fencing option makes it far more difficult for intruders to access your site due the combi palisade having increased security of individual pales. Instead of being bolted to the front of the top and bottom rails, there is a v slot design feature that allow the pales to slot into the middle of the rails.
Add your gate…
Available in single and double leaf varieties, all our palisade gates are supplied with the correct posts and fixings to make it easy to assemble.
Palisade fencing and gates offer a great amount of strength and security, but you can always add that extra security with Gatemaster locks.
With palisade fencing and gates, you may benefit from using a bolt-on-lock. This is simple to install, and only requires three holes drilled through the gate frame. Then, simply bolt it on using the fixings supplied.
Railing Systems & Gates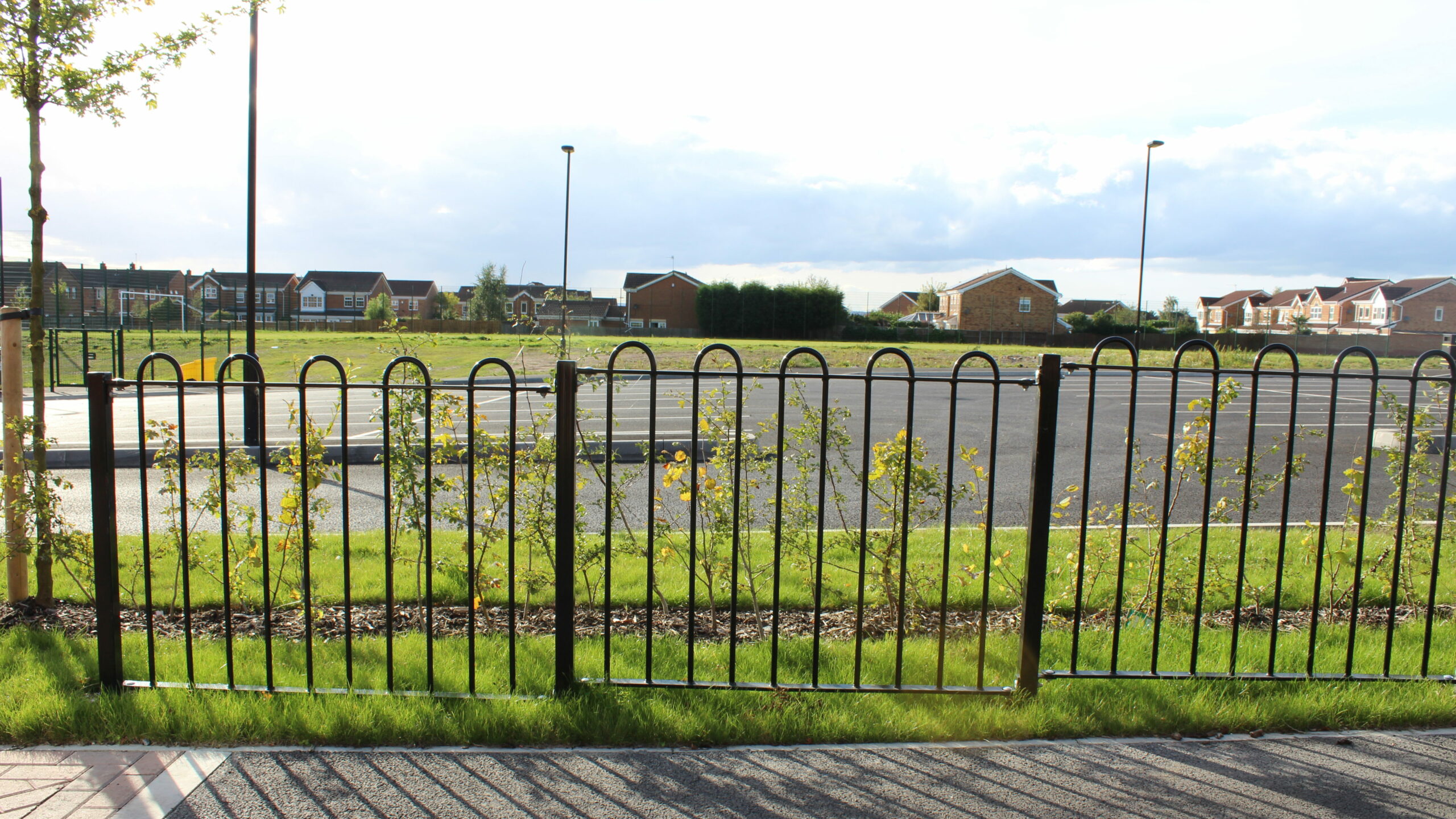 Railing systems are a good choice for securing public locations, especially when there are children around. Besides being safe and secure, railing systems are very 'stylish'.
Unlike the mesh and palisade fencing and gates, the railing systems are best suited for areas that require visibility and a medium to low level of security. For example, playgrounds.
You will find our railing systems come in various widths and heights, as well as numerous installation options (self-raking, vertical, bow top). Although, bow top railings are most popular when securing an area where children are involved, as they can be supplied as a RoSPA certified fencing system.
There are matching gate options with whichever railing system that you go for, with a selection of pedestrian, single leaf and double leaf, there are a wide number of options available… And don't forget it you need something custom; we can do this too!
Final thoughts
Selecting a security fencing solution for your school is no small task, and there are a lot of things to take into consideration, not only the fencing and gates but the additional gate hardware that might provide that additional safety for your school.
Decide which elements are most important to you and this will help in picking the best option for you!
If you would like any further information, please visit the First Fence website.